In this Section you can make the local Backup configuration, indicate if you want to make the daily, weekly or monthly Backup of the accounts and databases.
Navigate to:
CWP Settings --> Backup configuration
Backup Folder Local: Path where the backup will be saved, if the path does not exist, it will be created automatically.
Note: This Backup is Incremental and occupies a large space.
To save the configuration click on save changes.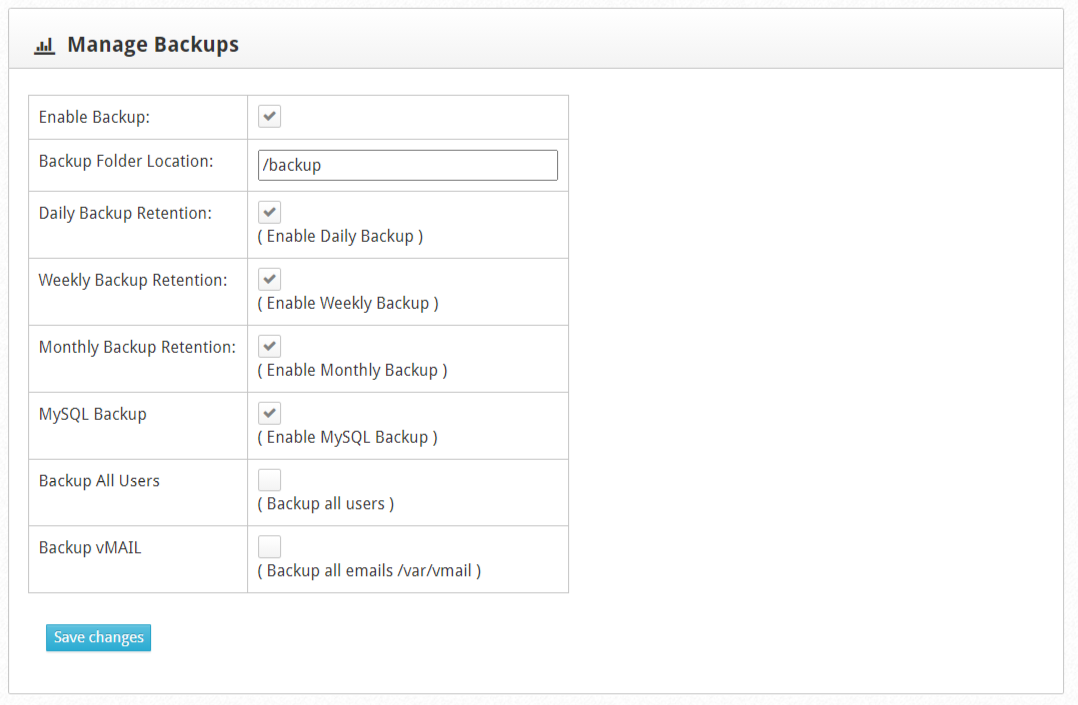 Backup Folder: Selected destination to store the result.
Daily Backup: Select to run daily backups.
Weekly Backup: Select to run weekly backups.
Monthly Backups: Select for monthly backups.
Mysql Backups: select backups for mysql database.
Backups All Users: Select backups for all users.
Backups vMails: select backups of email accounts.
Remote Backup Settings: This module has the functionality of making backup copies according to its schedule on external servers. It is important to note that it only works with Access-Key, it can be configured daily, weekly or monthly.
To run the remote backup system, you must enter the data shown in the following image.
Temp Folder: Temporary directory where the files will be stored before copying it remotely.
Server IP: IP or hostname where the files will be copied.
Username: User CPN SSH access to the remote server.
SSH-Port: The port for the SSH connection to the remote server.
Access-Key: To the remote server.
NOTE:
1- Make sure that the SSH-Port is open in the firewall of both servers.
2- Make sure the SSH-Key is allowed on your remote server.